Prepare. Evacuate. Recover.
Terra Frma Guidebook
Walks you through preparation steps. Guides you through recovery should you ever need it.
Action Plans
Guides you during and after a disaster both physically and emotionally. Includes a Drill Card for practicing.
Also included are your accessories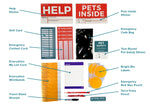 "This box literally saved us last night. We had to evacuate fast but we knew what to do!"

- kari

"WOW! I am just amazed by this product! I had no idea that it would be so thoughtfully organized and easy to use."

- Colleen

"The accessories and the disaster deck are genius. I think what you guys have done is exemplary and well thought out."

- Tami

"We live on the other side of the river from where we work and that's problem. My wife has done a ton to prepare already and I'm about to follow suit. Thanks, guys."

- Kevin

"This is an outstanding product for all of us who want to be prepared for natural disasters. "

- Mary

"Favorite items are the deck and the guidebook."

- Martha

"The accessories and the disaster deck are genius. I think what you guys have done is exemplary and well thought out."

- Tami

"You can't imagine how much this has empowered us to get after it!"

- Anne

"Terra Frma is an excellent jump start to make things much less difficult when an event actually does takes place."

- Jim

"This is all you will ever need! "

- Jordyn

"We immediately used the Guidebook to make our kits, get water and figure out how to evacuate if we are ever told to leave. I highly recommend this product. Highly!"

- Lisa

"Getting prepared was becoming a big pain. It was pretty overwhelming to try and take it on being a novice. But this Grab and Go box that sits on my kitchen shelf is a life-saver!"

- Karen

" I cannot recommend The Grab and Go box enough. So worth the price. I mean isn't life worth the price?"

- Joelle
Time Saved

We did two years of work to save you a mountain of research.

Psychology

We use psychology and life coaching skills to help you follow through on preparing.

Holistic

We show you exactly what to do physically, intellectually and emotionally in any natural disaster.

Guided

We guide you through every step by using checklists, color coding, visual aides and reminders.
GEAR IS NOT ENOUGH

You also need clear, simple steps for preparing, reacting and recovering.

TRUSTED

Disaster experts, first responders, life coaches, trauma therapists and disaster survivors helped create every product.

WELLNESS

Our products include Be Well checklists to guide you and your family toward calm in any emergency.
GRAB + GO BOX: The Holistic Disaster Preparedness Kit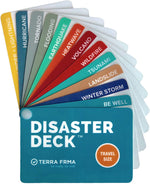 The Disaster Deck
Steps for inside a vehicle or outdoors in any disaster. Prevent fight or flight with these simple yet critical steps.
Order on Amazon