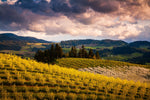 A safe day to...
Travel to Hood River + Cascade Locks, Oregon
The cities of Hood River and Cascade Locks are both located along the Columbia River Gorge in Hood River County in northwest Oregon. With Oregon's tallest peak, Mt. Hood (11,235 feet) overlooking Hood River and the Columbia River Gorge cutting through magnificent landscapes, the region is worth visiting for its unusual mix of geology and climate. A hub for athletic events, tourism, festivals and waterfalls, Hood River County is a fun and adventurous destination for the entire family.
Support Hood River + Cascade Locks
In early September of 2017, the Eagle Creek Fire was ignited by human negligence and began burning along the Columbia River Gorge. The fire grew rapidly and burned just under 50,000 acres, forcing the evacuation of hundreds and trapping hikers in the area. The city of Cascade Locks was the first to feel the impacts, as it was forced to evacuate and salmon hatcheries had to release 600,000 fish six months early. The historic Multnomah Falls Lodge was also threatened but saved by water tenders.
Despite the impacts of the Eagle Creek Fire, the Columbia River Gorge is still a stunning and must-see destination. Many of the businesses in Cascade Locks and Hood River had to close during the fire and what would have otherwise been during their busy season. When visiting, do your best to shop local and support the towns business owners. You can also take a look at the Friends of the Columbia River Gorge initiative, FAQs and ways to help.
Best Time to Visit Hood River + Cascade Locks
Most say there isn't a bad time to visit Hood River or Cascade Locks; however, depending on your interests and intentions, there is a best time to visit for you specifically. If wildflower blooms are your goal, visit between April and June. If you're looking for the warmest weather, visit from June to August. The fall season from September to late October is a fabulous time to see a few less people and enjoy spectacular foliage. Even in the winter, there is still lots of beauty to be found along the Columbia River Gorge.
Travel Safely in 

Hood River + Cascade Locks

Terra Frma strongly believes that disaster prone towns and cities deserve to be visited and supported. Some of the most spectacular areas in the world happen to be disaster prone areas. If we stop visiting them, we stop seeing the world at its fullest. Just as you deserve to be resilient at home, you deserve to be resilient while traveling as well.

Travel safely to Hood River or Cascade Locks by taking these simple preparedness steps, which include packing smart and researching helpful resources ahead of time. 
Pack the following items
Printed map of Hood River County County
On-Foot Kit

 

in day pack for wildfire safety
Local safety resources for Hood River + Cascade Locks
Hood River + Cascade Locks are at risk for
Earthquake

Wildfire

Volcano
A Day in Hood River + Cascade Locks
Spend a day in beautiful the Columbia River Gorge where vineyards, coffee, river cruises, kitesailing, hiking, skiing and more is all within reach. No matter what time of year you visit, bring along your Disaster Deck and even your Grab + Go Box for extra security.
Downtown Hood River + Cascade Locks
Cascade Locks is one of the oldest towns along the Columbia River Gorge and sits on a stretch of the river that Lewis & Clark described as the "great rapids of the Cascades." This town's old school charm is very much alive with galleries, gift shops and plenty of friendly smiling faces. Hood River's downtown area is mainly located between State Street all the way down to Industrial Avenue right by the river. Hood River prides itself on keeping a very clean downtown for residents and guests to enjoy alike. Walk the river, shop at unique boutiques and grab a bite to eat all within the downtown vicinity of Hood River.
Get Outside in Hood River + Cascade Locks
Portland Spirit Sternwheeler offers information-packed, relaxing riverboat cruises on the triple-deck Sternwheeler, which departs from Cascade Locks and travels up to The Dalles. Take in a 360º view of the gorge while on a meal cruise or sightseeing excursion.
Hood River Kiteboarding Guide. Kiteboarders from all over the world are drawn to Hood River and the Columbia River Gorge area for its premier kiteboarding opportunities. The gorge acts as a natural wind tunnel, sucking up air from the coast and sending it down the canyon. However, kiteboarding can be very dangerous, we recommend that beginners take classes and that experts remain vigilant to extremely gusty winds.
Mt. Hood Meadows offers downhill and cross-country skiing in the winter and hiking and scenic chairlift rides in the summer. With ride share services, buses and easy access, trekking up to the mountains is a perfect change in altitude from being in the Gorge. The views are always worth it. 
Where to Eat in Hood River + Cascade Locks
Broder Ost in Hood River serves traditional Swedish dishes. Fika, Danish pancakes and fritters will have your mouth watering before you even sit down. Swedish meatballs, salads, lamb burgers and more offer a perfect meal for every type of eater.
Brigham Fish Market in Cascade Locks is a must. Treat yourself to the Alaska halibut fish & chips to enjoy one of their most popular items on the menu, or grab a piece of fresh fish to cook up at your rental. Either way, you won't be disappointed.
Where to Drink in Hood River + Cascade Locks
Stoked Coffee in Hood River brews coffee made for athletes. They know that elevation, water, temperature and taste are all contributing factors to a good cup of joe, and a good vacation at that. Stop by their Hood River location (one other located is in Park City, UT) and drink for yourself.
Thunder Island Brewing Co in Cascade Locks is an adventure-based 7-barrel brewery that has been handcrafting beers in the Pacific Northwest for since 2013 and offers an excellent experience at their Cascade Locks taproom. Check their event schedule for live music and grab a pint and a burger with friends.
Where to Stay in Hood River
Whether you are camping, renting, or staying at a hotel, we recommend you learn the safety procedures in place at your accommodation and print a map and highlight routes from your accommodation to the nearest designated safety shelter.
The Hood River Hotel is in the center of Hood River's downtown, nestled amidst local artisan shops, eateries, wineries, brew pubs and a myriad of outdoor adventure destinations. The 1911 vintage hotel maintains its historical charm while adding modern amenities like free WiFi, cable TV, complimentary local coffee and a dry room sauna. They also allow up to 2 dogs per room for a small additional pet fee. 
The Columbia Gorge Hotel, perched atop the majestic cliffs of the Columbia River, features the award-winning Simon's Restaurant, Valentino Lounge, 40 guest accommodations and an outdoor terrace. With full-service spa, safety deposit boxes, fireplaces in the deluxe rooms and daily newspaper and morning coffee, you'll feel safe and right at home. This fully non-smoking hotel also allows pets under 50 pounds in select rooms.
Where to Stay in Cascade Locks
Columbia Gorge Inn offers spacious, clean and comfortable rooms that this a perfect place to relax after days exploring the Columbia River Gorge. With modern amenities and ideal location in the heart of the Gorge, the Columbia Gorge Inn is close to waterfalls, an award winning fishing marina, hiking, climbing, biking, museums and all the incredible activities and entertainments of the area.
No matter where you live or where you travel, the Grab + Go Box is your resource for practicing vital steps to outsmart any disaster. It is the only step-by-step product that prepares you before and guides you during any natural disaster. Interactive expert resources and wellness-focused guidance help build physical and emotional resilience in you and your family.
Be Ready. Be Well.