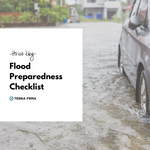 Floods are the most frequent natural disaster in the United States, occurring in every state. However, the causes and severity of floods vary. Some can cause severe damage, while others can be minor. Nevertheless, it's important to assess your area's flood risk, prepare, and know what to do when a flood occurs. 
Assessing Flood Risk
A flood is a partial or entire inundation of a land area that is typically dry. There are several types and causes of floods. Sometimes floods can occur as a byproduct of other natural disasters such as a hurricane or tsunami. While other times flooding is caused by heavy rain, snow melting, coastal storms, or waterway or dam overflow. 
Assess the flood risk in your area by identifying flood zones and reviewing the floodplain mapping provided by your local government. Know which types of floods are common in your area.
Types of Floods 
Flood
An overflow of rising water can cause a flood in an existing waterway, such as a river, stream, drainage ditch, or ponding water at or near the point where the rain fell. Flooding lasts longer than flash flooding; it may last days or weeks.  
Flash Flood
A flash flood is caused by heavy or excessive rainfall in a short period. The excess of water can cause raging torrents through river beds and streets. They can also occur suddenly when a levee or dam fails or when an ice or debris jam suddenly releases water. 
How to Prepare for a Flood Before, During, and After
Here's a checklist for flood preparedness and response. Remember, if your area issues an evacuation order, you should leave immediately, regardless of the progress you've made on this flood preparedness checklist. 
Before a Flood:
Listen to the local

radio or television

, or sign up to receive text alerts regarding flood watches and warnings. 

Flood Watch

- flooding may not occur but is possible in the area.

Flood Warning

- issued by the National Weather Service when flooding is imminent or occurring in the area.

Flash Flood Warning

- a flash flood is imminent or occurring. 

Find out if your insurance policy covers flood damage. 

Check if your community or local government offers a flood

evacuation plan

or identifies flood

evacuation routes

. 

Learn how to shut off your property's water, gas, and electricity. Keep a wrench handy for that purpose.

Consider installing check valves in your plumbing to prevent flood water from backing up into your drains. 

Keep gutters and drains free of debris. 

Waterproof your basement if you have one. Seal the walls and cracks. 

Install sump pumps with a backup battery.

Plant vegetation around your home, especially if you live in a low-lying area. Plants will help absorb some excess water and control soil erosion.

Consult a professional about elevating your water heater, electrical panel, and furnace for homes on floodplains. Or install outdoor berms, levees, and flood walls. 

In areas with repetitive flooding, consider elevating the building. 

Give livestock access to higher ground within their fenced area. 

Fill up your vehicle's gas tank or charge it completely, and back it into your driveway for a quicker departure. 

See if your community offers free sandbags, or consider making sandbags to put around your property. 

Talk to your family about flooding and create a flood evacuation plan.
Right Before a Flood:
If you have time before the flood reaches your area, try to take some of the following actions and get prepared to evacuate.
Fill plastic bottles with clean drinking water.

Fill bathtubs and sinks in case you need water for flushing or cleaning. 

Bring outdoor furniture and other items inside. 

Turn off propane tanks.

Move valuables to higher levels of your house.

Unplug small appliances to prevent damage from potential power surges. 

Keep pets indoors.

Locate your family members. 

Gather important documents, cash, medications, food, water, a first aid kit, and other emergency supplies. For a complete list of items in an emergency

supplies kit

, check out our

Grab + Go Box

. 

Stay informed

about changing weather conditions.
During a Flood:
Be prepared to evacuate at any moment. Be sure your emergency evacuation kit is prepared. 

Move to

higher ground

immediately when a flash flood warning is announced in your area. 

Stay away from floodwater. If the accumulated water is higher than your ankles, do not walk through it. Instead, turn around and find a different route. 

Don't drive down a

flooded road

or through flood waters. Turn around and go in a different direction.

Keep children and pets close by and away from flood water. 
After a Flood:
Wait until officials say it's safe to return home.

Examine your property for loose power lines, crack in the foundation, or other hazards before entering your home. 

If you smell gas or hear hissing, leave immediately and contact the fire department. 

Keep children and pets away from flood water or other hazards. 

Check for water damage in cleaning supplies, batteries, fuel, and other items. 

Wear protective clothing when cleaning up water. Rubber boots, gloves, and eye protection are recommended.

Inspect food and water to ensure they are safe and have not been contaminated. When in doubt, throw it out. 
Flood events can occur at a moment's notice. To prevent stress or last-minute preparations, know what to do before a flood becomes an imminent threat. Remember, stay calm and always trust your instincts. If you feel unsafe, don't wait for an evacuation order to be issued. Instead, grab your Grab + Go Box and leave immediately to seek higher ground.