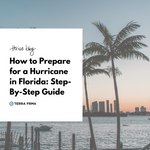 With hurricane season happening for both the east and west coasts, preparedness should be top of mind. On the Eastern coast, the Atlantic hurricane season runs from June 1st to November 30th, and some states, like Florida, have to be particularly careful due to their proximity to the ocean. Hurricanes can come with days of warnings or relatively none, so it's a good idea to always have these items on hand, especially during hurricane season, no matter whether or not you're expecting a storm. 
Doing so could save you a trip to the grocery store (or your life), so be sure to outline and enact a hurricane preparedness plan that you and your family can follow - it'll help you feel a lot safer. In this article, we'll review how to prepare for a hurricane in Florida and what to do if you find yourself caught in the middle of one approaching.
Stash Your Non-Perishable Items
We'll start this list with something you can do well before you find out if you'll be impacted by storms this hurricane season, which is to devise your supply kit. A huge step of hurricane preparedness is in the name – staying prepared whether or not you're expecting a weather event. In Florida, a few of the items you'll want to store in your home during hurricane season include:
Flashlights

: these will allow you to see where you are and prevent accidents like falling into debris.

Batteries:

It's always recommended to keep a few spare sets of batteries and portable phone chargers around in the event that equipment needs to be powered on, but electricity is down. Think radios, remotes, and cell phones.

First Aid Kit:

Your first aid kit should include band-aids, gauze, scissors, gloves, and any necessary medications and prescriptions.

Hygiene Items:

Pack essentials like toilet paper, wet wipes, hand sanitizer, soap, toothbrushes, toothpaste, feminine hygiene products, and any other personal care items your family requires.

Cash:

Another item that's good to have in the event of a power outage is cash, so you do not have to fear or worry about your cards or payment methods malfunctioning.
Stock Up on Groceries
Next, you'll want to make sure that you have a decent amount of food and water. This is another precaution in the event of a power outage or boil water advisory that could make cooking and ordering fresh meals difficult. We have a whole article dedicated to creating and shopping for your hurricane grocery list that you can refer to. The key here is finding non-perishable foods that don't require refrigeration or preparation in order to eat them safely. You should also stock up on emergency food bars.
Follow the News
As hurricane season progresses, if there's a threat to your community, you'll likely have plenty of time to be aware and prepare for the situation. Hurricane life cycles are a lot longer than a couple of days to when they impact land. It does require, though, that you pay attention to your local news channels and weather forecasts. 
Most hurricanes will start as tropical storms or depressions, which are categorized based on their wind speed. If these smaller storms continue to pick up momentum, caused by just the right hurricane conditions of heat and water, then there's a chance they could become the storms we're familiar with. They aren't very frequent, though, and it's not often that a hurricane will occur without some prior warning or threat of a tropical storm. 
By following weather authorities like the National Oceanic and Atmospheric Administration and its national hurricane center, you'll know when to anticipate the effects, how strong it is, and what the wind speeds and symptoms are like for your specific area. Hurricanes and tropical storms are both categorized by their maximum sustained wind speeds, which are the averages measured over two-minute periods. 
Plan an Evacuation Route
Another important step in your Florida hurricane prep is understanding the evacuation routes for your home or community. Depending on where you live, like by the beach, in-land, in an elevated area, etc., will determine the best plan of action for you and your family, and is another reason why listening to the news and weather authorities is so important. 
When certain signs are showing for an area, meteorologists will indicate a hurricane warning, meaning it is expected to impact the area. Hurricane watches, on the other hand, mean there is a possibility but not an imminent prediction. If you receive notifications about either one in your area, you should take the information seriously and follow authorities' recommendations.
You'll also want to outline where you're going and the route you'll take before you get in the car to go anywhere. During big storms, governments will sometimes issue mandatory evacuations, meaning everyone who is able to leave the area should. Traffic may be long, but it's worth being safe and leaving the situation if it's possible because "waiting it out" can have adverse effects.
Because cell phones may not work during and after a hurricane, you'll always want to let someone know where you are and where you're going, especially if you're planning to leave the area, as it helps prevent any confusion.
You can use the Terra FRMA Grab + Go Box as a resource to create the right plan for your family. It was developed with first responders, and there are action plans, instruction cards, and information for a number of situations you and your family should prepare for.
Secure Your Home
Finally, whether or not you decide to stay home or evacuate because of the hurricane, you'll want to take a number of precautionary steps. If you're expecting a storm, and especially flooding, you should purchase sandbags to place in the open areas of your home, like doorways and driveways. Another step you should always take is putting important documents in a safe space, ideally where they're not near the floor or other areas that could become damaged. If you have enough time before the storm to make copies of important documents, that's a recommended step that can pay off in the long run. Also, if you have enough time, you may be able to board up your windows with shutters or planks of wood.
Wrapping Up
If you're a Florida resident or even visiting the state during the hurricane season, it's always smart to review your options and have an emergency plan. If you ever find a hurricane approaching your area, stay calm; you now know what to do. Create a supply kit of non-perishable items, stay alert with news and notifications, plan an evacuation route, and secure your home. You've got this!