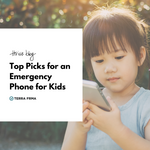 As a parent, your kid's safety is your first priority. You may worry about them when they're away, but you know it's impossible to be by their side 24/7. 
You've contemplated getting them a cell phone, so you can contact each other when needed. However, you've decided they are too young for such a device and need an alternative option.
This situation is where an emergency phone for kids can be beneficial and reassuring. Continue reading to learn more about how emergency cell phones for kids work and get our top picks for devices.
What Is An Emergency Cell Phone?
An emergency cell phone is a communication device that one can use to contact others in an emergency. It typically has less functionality than a smartphone and is solely used for emergency communications through calls or texts. 
Furthermore, emergency phones designed for children often have parental controls, location tracking, and minimal functionality- some are screenless! 
These types of phones also restrict access to the Internet, social media, games, and other applications, and users can only contact select phone numbers.
Why Do Kids Need An Emergency Phone?
Emergency phones are great devices for kids as they can alleviate worry for parents and children.
If you have a child that experiences separation anxiety or one that worries a lot when you're apart, the phone can assure them you're always a phone call away and there for them if they need you. In addition, they can message you if there's ever a problem or if they need to be picked up. 
An emergency phone can also make your life as a parent a lot easier. Parents constantly run around from work to school pickup to their kids' activities and other daily errands. As a result, you may run behind schedule sometimes, or they may need to wait alone for short periods of time. 
If your child has an emergency phone, you can tell them you're running late and they need to hang tight for a few extra minutes. Or they can let you know they've made it home safe from school. 
Either way, an emergency phone is sure to bring peace of mind to both of you.
Best
Emergency Cell Phones For Kids
There are several types of emergency phones for kids, varying in design and functionality. Ultimately, you'll need to consider the main ways your child will use this phone and pick the one most suitable for their needs and your comfort.
The Gabb Phone has texting and calling so your kids can get in touch with you, but you won't have to worry about prolonged screen time as there is no Internet, social media, or games. This way, kids can stay connected but not too connected. Gabb also makes a smartwatch for kids with similar functionality. 
Pros:
Set an emergency contact and

SOS button

to alert you immediately.

Unlimited talk and text.

GPS tracking

with location updates and history.

A camera, so they can take photos and videos to send to you.

No online threats or access to inappropriate content.

Long

battery life

; it can last a few days with minimal use.

Basic apps like a calculator, calendar, alarm clock, etc.
Cons:
Not water-resistant.

No additional parental controls.

Lack of parental ability to monitor phone calls.
Cost: $99.99
Another option for an emergency phone for young kids is the KidsConnect KC2 which lets parents define the contact list and order the numbers by call preference. There are no apps, so keep in mind this phone is purely for emergency contact situations. Kids can quickly reach you when they need help using the SOS button. 
Pros:
SOS button for easy contact ability.

GPS tracking with real-time location and location history.

Programmable contact list.
Cons:
No apps or special functions apart from calling a limited number of contacts (this can also be a pro, depending on what you're looking for).

Limited user-interface.
Cost: $199.95 ($99.95 for a refurbished option)
Pinwheel makes several smartphone models intended for kids and focused on safety. The Pinwheel Plus 2 is a Samsung Galaxy A13 with more parental controls than a standard phone. There is no Internet or app store, and it comes with only pre-approved apps. 
Pros:
Approved contact list.

Parents can monitor activity from their phone and block incoming pictures.

GPS location tracking.

Ability to disable app use during certain times of the day.
Cons:
You must pay a base price plus a Pinwheel subscription and cell service.

Some models aren't compatible with all carriers. 
Cost: $329 for the Pinwheel Plus 2 (+ subscription and cell service)
The Jitterbug is intended for older adults; however, it is perfectly suitable for children. This flip phone is equipped with an emergency button for quick calling, and its design features a large screen and buttons for easy use. 
Pros:
No geographical boundaries - use it anywhere.

Easy to use and navigate.

Monthly plans for talk and

text messaging

are available, and you can cancel anytime.

No Internet or social media.

The speakers are loud for accessible communication.
Cons:
You must use Lively as the carrier (it's incompatible with major cell carriers).

No GPS or parental control features.
Cost: $74
The screenless Relay phone is a good first emergency phone option for kids. This walkie-talkie-style phone is water-resistant and durable, and you can easily attach it to your kid's backpack or clothes. Plus, since there's no screen, you don't have to worry about screen time. 
Parents must download the Relay app to communicate from a smartphone to Relay or track location. 
Pros:
Simple and easy to use - push to talk!

Real-time location tracking.

Water-resistant and compact.

Long-lasting battery life.

No

Internet access

, so you don't have to worry about cyber threats.

Kids can send SOS alerts by pressing the button 5 times.

4G LTE and WiFi connectivity.

Can change channels to communicate with different contacts (which parents can establish through the app).
Cons:
Less functional than other models at similar price points.

Occasional delays in the

location tracking

.

Intended for businesses (Relay got rid of its family product line).
Cost: $149
A SmartWatch is an excellent alternative to an emergency cell phone. The TickTalk 4 has messaging, calling, and video calling capabilities to a predefined contact list. In addition, it's equipped with parental controls and activity monitoring.
Pros:
Long battery life (up to 62 hours).

Activity tracking features.

Emergency and SOS features.

20+ parental controls.

A limited contact list (which parents can establish and control).

No access to social media, games, and web browsing.
Cons:
Only connects to AT&T or T-Mobile cellular networks.

Pay-as-you-go cell service (no contracts).
Cost: $199
Wrapping Up
If you're worried about being able to contact your kid or vice versa, an emergency phone for kids is the way to go! These devices have limited functionality and safety controls, so your kids can only access the necessary functions. Many options are available on the market, so you can choose a phone that best suits your needs.