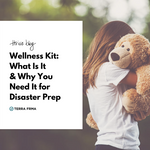 If you live in an area susceptible to natural disasters, chances are you've already done some research on preparing yourself for potential emergencies. While there is plenty of information available on the physical and analytical components of disaster preparedness, many sources tend to disregard the wellness aspect.
TERRA FRMA's proprietary strategy aims to form a holistic approach to disaster preparedness, paying equal attention to as many nuances as possible. This guide will uncover the topic of wellness in relation to disaster resilience and explain what a wellness kit should contain.
Why Is Wellness Important for
Disaster
Resilience?
Wellness is a crucial factor not only in daily life but also when it comes to disaster preparedness and recovery. This term can entail many things, such as:
Feeling emotionally calm

Being confident 

Staying physically safe

Understanding that your finances and insurances are organized

Knowing that your important personal belongings are secure
Ideally, these factors should accompany you every step of the way - before, throughout, and after a natural disaster. However, in practice, it's impossible to eliminate all stress factors and ensure that a person remains completely unbothered by a disaster.
However, thorough preparation contributes a great deal to disaster resilience and the way one copes with emergency situations. One crucial preparatory measure entails creating a wellness kit.
What Is a
Wellness Kit
for
Disaster
Preparedness?
If you find yourself in challenging circumstances, such as a post-natural disaster situation, having items that make you feel comfortable at hand can significantly improve your experience. That's why having a wellness kit as a part of your emergency bag is useful and highly recommended.
Things
to Include in Your
Wellness Kit
The items in your wellness kit will help you relax, calm down, and recover from a stressful event, both physically and emotionally. Since every person has a specific idea of the objects that bring comfort, the wellness kit should be adjusted according to personal preferences yet with such factors as expiration date, weight, and size in mind. 
Here are some examples of the things an adult could have in such a kit:
Acupressure ball

Earplugs

Muscle salves

Herbal tea 

Lavender oil 

Notebook

and pen

Repair cream

Sleep mask 
A wellness kit for kids can contain the following:
A favorite book

Blanket

Comfort

items

like stuffed animals

Portable games

Favorite non-perishable snacks 

Notebook

Colored pencils

Crayons
You can also include photos of loved ones in such kits but remember to place them in a waterproof folder. 
Wellness Kit
Maintenance
Depending on what you've decided to include in your health and wellness kit, you might need to check it regularly alongside other items in your emergency bag. For instance, snacks, essential oils, and other things that are perishable might need to be replaced. 
With that said, you have everything you need to create your wellness kit. Remember to keep it safely in the emergency bag and to inform the members of your household about its importance. Stay safe!