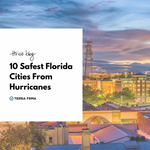 In the United States, Florida is the state that gets hit the most by hurricanes, followed by Texas and Louisiana. According to this source, out of the 302 storms to make landfall since 1851, the Sunshine State has been affected by 121 of them. 
This doesn't mean that all hurricanes have been severe nor that the entire state was affected. However, no place in Florida is entirely safe from hurricanes. For example, Hurricane Ian, a category 4 storm and one of the strongest in history, pummeled through Florida's less-struck west coast this past September. 
As more hurricanes continue to devastate the Gulf State, this post will examine why Florida gets hit by so many hurricanes and list the 10 safest Florida cities from these natural disasters. 
Why does Florida get hit by so many hurricanes?
Florida is hurricane-prone due to its geographical location. It's a peninsula situated between two warm bodies of water: the Atlantic Ocean and the Gulf of Mexico. Warmer bodies of water favor hurricane development and provide fuel for the storm, making Florida a perfect target. 
The state also sits directly in the path that storms from the Caribbean and Gulf typically follow as they develop. Hurricanes in the northern hemisphere travel north or northwest from the tropical and subtropical regions. As a result, the areas in Florida hit most by hurricanes are the southeast coast and panhandle. However, other parts are at risk as well. 
Safest Cities in Florida
from Hurricanes
According to the Washington Post, 76% of Florida residents live on the coast. While the coasts of Florida are beautiful and great areas to live outside of hurricane season, the central and northeastern parts of Florida are generally safer from these storm events. If you're considering moving to Florida, you can refer to this list to help your decision. And no matter where you choose to reside in Florida, having a Grab + Go Box should be at the top of your preparedness checklist.
1. Palatka
Palatka is the safest city in Florida from hurricanes. It is a small town just inland from St. Augustine and about 60 miles south of Jacksonville, located on the St. Johns River. The city has about 10,500 habitants, and although it's small, it has a lively culture and many activities for its residents, such as popular annual festivals.
2. Lake City
Lake City is considered the second safest city from hurricanes, and has just over 12,000 residents. It has a low risk of flooding and tropical storms as well. Lake City is located in the northern central region of Florida, right by the I-75 and I-10 junction.  
3. Leesburg
Leesburg is also one of the most secure cities, located 45 miles west of Orlando. It's been growing and has become an increasingly popular destination for retirees. The city now has more than 23,000 residents. In addition to it being safe from hurricanes, it is also at low risk of tropical storms and flooding. 
4. Orlando
Despite recent flooding and impacts from Ian, the well-known city of Orlando is also one option to check out when looking for hurricane-safe cities. It's also the largest city on this list. This central Florida city is home to more than 280,000 residents and the world-famous theme park– Walt Disney World. This city provides an urban experience for visitors and residents alike. It also has a low risk of experiencing flooding and tropical storms.
5. Sanford
Sanford is another central Florida city that's safe from hurricanes. It's about 20 miles north of Orlando and has over 60,000 residents. The city has a quaint, historic town that has been renovated and turned into a vibrant area.
6. Kissimmee
Safe from both
hurricanes and tropical storms
, Kissimmee holds the number 6 spot. It is about 20 miles south of Orlando. The city is known for its native wildlife as it's located in central Florida on the northwest shore of Lake Tohopekaliga.
7. The Villages
The number seven spot was previously held by Naples, on the Western coast of Florida. However, due to recent impacts of Hurricane Ian, Naples has moved down on the list. The Villages now holds this spot as it's located 35 miles from the nearest coast and has an elevation of 75 feet above sea level. The Villages is a large, gated, 55 and over retirement community of 81,000 residents in central Florida. 
8. Ocala
Ocala has low hurricane, flood, and tropical storm risk. It is located between Gainesville and The Villages in Marion County and has over 50,000 residents. In addition, it is home to the second largest forest in Florida, the Ocala National Forest. 
9. Gainesville
Gainesville, located in the northern region, is number 9 on the list of safest Florida cities from hurricanes. The University of Florida is located in this city, making it a busy college town with over 135,000 residents. There are lots of museums and art centers to enjoy in Gainesville. 
10. Fernandina Beach
The number 10 city is
Fernandina Beach
, located in the northeastern region on Florida's Atlantic coast. It has a historic downtown area and over 11,000 residents. It's also generally safe from tropical storms. 
Please keep in mind that this list could change as officials continue assessing Hurricane Ian's damage, and you should always adhere to local guidelines about natural disasters.
What our Florida Customers Told Us
During the most recent hurricanes, our customers included those traveling to Florida and residents. Here is what they told us:
1. Hurricane Action Plan
This was an especially critical item for our customers. Many were without power and cell service. Some chose to evacuate but some stayed. They followed these steps in the Action Plan:
Evacuating from the hurricane
How to protect their home with the hurricane was 18-36, 6-18 and 6 or less hours away
Indoor safety steps
How to stay safe during the hurricane
What to do just after
Assisting others who were trapped
Confirming their home was safe

2. Guidebook
Some customers had followed the guidebook's recommendations for preparing in advance of any storm but some had not. The Guidebook then became incredibly useful in helping them recover. Many told us that following these steps was critical to their resilience after each storm:
How to stay emotionally well after the hurricane
Insurance checklists
Loss of home checklists
Post-disaster clean up
Gear and supplies needed
3. The Disaster Deck + Accessories
Families sheltering in place wore their wristbands. 
Customers stranded in vehicles used the Disaster Deck
The Pets Inside sticker was used when pets weren't able to evacuate
The Grab + Go Box is meant to guide you before, during and after any disaster but what makes it unique is it does so both physically and emotionally. If you're considering whether you should reside in Florida, being aware of the potential dangers and preparing for them means you can live in the place you love while feeling confident you will stay safe. 
Be ready. Be well.
Team TF